Wedding day is a very auspicious and memorable day where Bride and Groom get attached with a single string. On this day, Bride always wants to get an attractive look and for that, she chooses the best wedding outfit, goes for facial, manicure, pedicure, and many more. But wait as a bride if you also do the same thing, then you are missing one important activity in your checklist, i.e., Nail Art.
Bridal Nail Art is very important because the focus of the camera next after the face is the hands as you are holding garlands to put on the groom and thereafter, holding the presents from the guests. In all such activities, your Nails become an important factor of glow and thus Nail Art has become very important in Wedding Day and also in other events.
If you are about to get married in the year 2022, then here some of the amazing and most unique wedding nail art are described below that will give a stunning look to your hands. So, let's see the trend of Nail art to glorify your beauty.
Top 10 Trending Bridal Nail Art
Short Nails for Wedding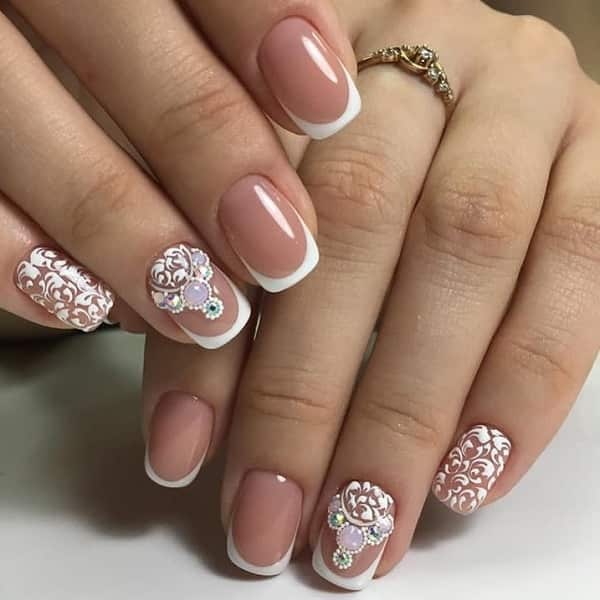 It is not necessary to have long nails at the wedding, even the shorter one gives the gorgeous look. To enhance the nail look, either you can put nail paint of one color in each nail or can go with different nail paints on the nails. Moreover, you can also spread some sparkles on your nails after the paint to give an amazing look to your nails.
Skin Tone Nail Art
To perform the wedding nail art designs, your nails must be in the proper shape via manicure. If you got the French manicure, then you must have stunning nail tips and that suits almost every color. But if perform skin tone color on your nails, then you will get a splendid look. To enhance the nail beauty, you can add some silver sparkles at the side edge of the nails.
Refine Splint
Simple but Amazing and this proverb best suits the one who loves simplicity. No doubt, before the wedding, you must have gone for the manicure, but its elegance increases when you apply some unique nail art. In long, sharp, and edge-shaped nails, you can apply the nail paint of your own color and keep different colors for each nail. Once the nail paint is dried, get a tiny nail brush and draw splint or stipes of your choice. On the off chance, if you failed to get any ideas related to the splint design, just go with the floral design.
Discrepant Nails
Have you ever noticed the nail art of celebrities? As they follow the trending art and the most unique one is the discrepant nails, i.e., nail art in different nails. You can try this trend on your wedding day and can put solid nail paint on one nail, stripe pattern on the other, and so on. This nail art not only enhances your nail beauty but also gives a fabulous look.
Crystal Nail Art
On the wedding day, the bridal nails should be simple, elegant, and comely. If you want all of them in one single nail art, then crystal nail art is best for you. This is one of the wedding nail art forms, that suits every nail including, long, short, etc. To get this design on your nail, just put white nail paint on your nails and once it dried up, then simply coat with the lucrative design that you wish.
Need Help? Contact at +91 81305 20472 for doorstep Bridal Nail Art Service.
Glitter Nail
Beauty lies in simplicity and this proverb is best suited for this nail art. In this nail art, you will find how the glitter shines when it gets the white background of the nails. This nail art is truly amazing and gives fabulous look to your nails. To get these bridal nail art designs, just apply white nail paint on your nails and once it gets dry, then apply some glitters at the edge of the nails. Make sure to cover the top portion of the nail with glitters to give stunning look to your nails.
Pink Nails
Wedding day is an auspicious day and pink color is symbolized as a chaste that will make your day a memorable one. It is a color that suits all nails irrespective of the nail size, i.e., short or long nails. If you perform pink art nails, then initially you need to blend the pink color with white or apply white nail paint on your nails, then further add pink color. Once it gets dry, then go with a little glitter, and thereafter, your nails will look amazing.
Ivory Nail Art
Ivory nail art is high in demand as it gives the true essence of traditional and modern art. This bridal nail art is also perfect for your wedding in 2022. To perform this nail art, get a French manicure and then put ivory nail paint on your nails. Once the nails get parched, then apply gold glitters at the top of the nails and some at the middle.
Red Bridal Nail Art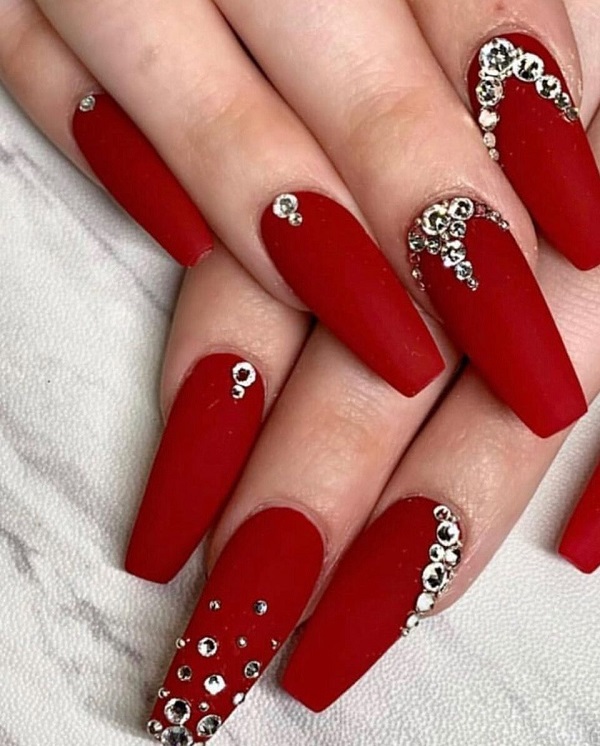 Red is a color that attracts people as its wavelength is low and intensity is high. On a wedding day, color plays a crucial role and your perfect selection of color in your outfit as well as in nails will make your day. Red nail paint is a bold color and to apply the same, you need to blend additional color. For instance, you can apply white nail paint on your nails and then design your nails with red color. The popularity of Red Bridal Nail Art is high in the wedding seasons and you must try the same.
3D Nail Art
In the present day, various art is in the trend and the latest one is 3D art. This art will intensify your nail glow and your wedding ring will also get the space in the camera. Once you apply 3D nail art, then it will be hard for others to ignore your nail art.
Book an Appointment with Meribindiya (+91 81305 20472) for Nail Art Service at home.
Bottom Line
On your wedding day, you can try these nail arts and can also go for others such as ombre nail art, Gel Nail, Golden Nail, Ascent Nail, and many more. On the off chance, if you are stuck amid the nail art designs bridal packages or in a dilemma to choose the best one that suits you, then you can consult Meribindiya, as it is the one-stop solution for bridal wedding makeup. This firm has talented beauticians that will give you a stunning look to make your day an indelible one.