Wedding day is a fortunate day for the bride and groom and on this day, the bride always wants to get a gorgeous look. But such a look is not finite to face, outfit, and hair because the hands also come in the limelight. In a broader sense, a wedding ring fitted in your finger and the hands holding the bouquet gets the focus of the camera and at this point, if nails have been ignored while getting ready for the wedding, then a vacuum will be created in your charming look. Intending to get a bewitching look on your wedding day, you must get beautiful nail extensions.
Nails irrespective of short or long but well-shaped enhance the hand's beauty. As a bride, you must apply some nail art techniques to enrich your overall beauty. Here in this article, you will get some ideas about beautiful nail extensions and the application of the same will make your day. The nail extension price is economical and is affordable for every bride.
Top 4 Types of Nail Extensions
The growth of the nails varies, some get brittle nails, and others get short nails. The luckiest one only gets the long nails and such nails intensify the beautify. Nail extension in the form of art to increase the size of nails. They are of two types, i.e., Tip and Forms. In the Tip process, the artificial nail is attached to the tip of the nail to increase its length. However, in the Form type, the artificial nails are attached over the nails to enhance the glow of the nails.
The application of nail extensions varies depending upon the adhesive material, such as Acrylic, Gel, and others. Moreover, the nail extension price varies as per the salon, but on average the price is affordable. Let's see them one by one and will also discuss all things you can do after applying for nail extensions.
Acrylic Nail Extension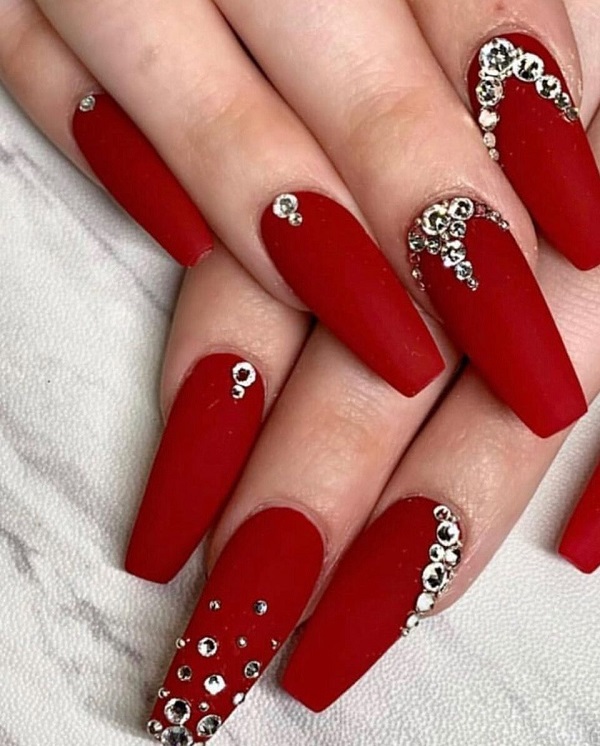 The name acrylic has been given just because of the applied adhesive, yes, it is acrylic in nature as the paste comprises a blend of monomer liquid and polymer liquid. Once the nail art form is chosen, then the acrylic paste is applied to your nail and then the tip or form is fixed. This kind of nail extension is suitable for a bride who has brittle nails.
However, it is better to consult the expert before applying or removing the acrylic nail extension as there is a high possibility of nail damage.
Gel Nail Extension
In this type of nail extension, the gel is used as an adhesive between your nails and nip. However, gel nail extensions are not directly applied, the use of UV light or LED is essential. It does not damage the nails, but it allows the nails to grow naturally. However, it is expensive and lasts for only 14 days.
As a bride, if you are looking for gel nail extensions near me, then you can consult, Meribindiya, the leading international bridal academy that has many branches in India.
Silk Nail Extensions
Silk Nail Extensions has also termed Fiberglass nail extensions where the synthetic material is applied on the floor of the nails and thereafter tip is fixed using the adhesive or gel. It is best for the one who has an allergy to the chemicals as the silk nail extension is free from the chemicals.
If you are wondering for Silk Nail extension price near me, then it is highly expensive but your wedding is priceless and such nail extensions hardly become an obstacle in your charming look. Hence, you can go with it and make your day.
French Nail Extensions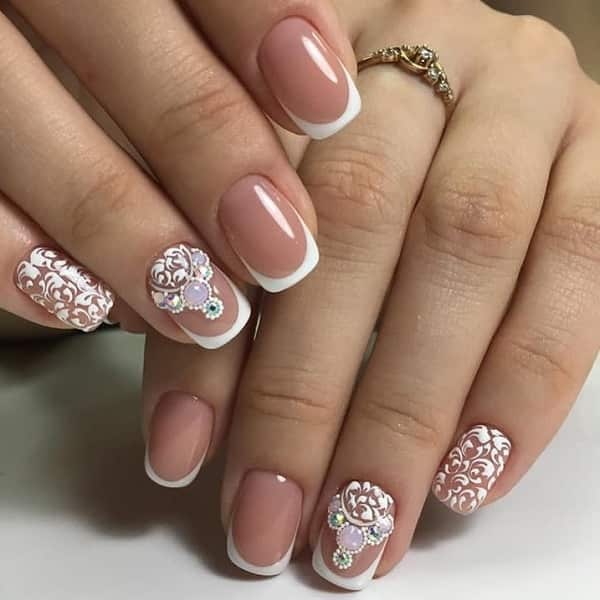 French Nail Extensions is a form of manicure where your nails get a well-defined shape and thereafter, you can go for nail art to look gorgeous. The application of such nail extension can be done at home and the process is very simple that can be easily performed.
Time to add some colors to your nail extensions
Once you are done with the nail extensions, then you can go with the nail art. This form of art will intensify the look of your nails. Here, some of the nail arts are listed below that will help you to choose the best one to make your wedding day a memorable one.
DIY Nail Art
This is the basic nail art that can be performed by every bride. In this nail art, you just need to give intensify the nail look by applying the color, gems, sparkles, and other accessories.
Geometrical Nail Art
In the present day, various geometrical shapes are in the use of Nail Art that not only make the nails unique but also glorify nail beauty. If you have noticed the checkerboard nail art form in social media, then you must have thought to apply it. It looks amazing and gives stunning look as it suits almost all the nail extensions.
Varying Nail Art
If you are fascinated by different colors in your nails, then you can put different shades on your nails. As varying nail art is high in demand and most suitable for long nails. However, if you have shorter nails, then you can go with nail extensions and the nail extension cost is minimal. Once you are done with the nail extensions, then you can go with this nail art.
Pale Nail Art
It is a form of nail art where you can put a light color on your nails. In a broader sense, you can apply solid color at the core base and thereafter, a light color as shades. This kind of art gives an amazing look to your nails and is best suited for any type of nail extension.
Bottom Line
To make your wedding day a special one, you can try the above-listed nail extensions and nail arts. If you are wondering about nail extensions near me with price at minimal value, then consult Meribindiya. This is an academy that offers beauty services and also provides beauty courses. Hence, go with it and make your day an indelible one that can't be erased from the memory of your loved ones.