After countless trials and hours, you have spent at the salon, you have finally decided on the hairstyle and makeup look you want for your D-day. You have also selected the jewelry and bridal trousseau. You have reserved the venue, finalized the guest list, and zeroed in on the catering vendor. Amidst all the wedding planning chaos, you skipped choosing a fabulous manicure to complement your D-day look.
We are not talking about the run-of-the-mill nail polishes that you have been wearing all your life. We are talking about the bridal nail art design that is customized as per the ensemble to give you the perfect nail style for wedding.
Are you looking for elegant nail designs for weddings or glitter wedding nails or wedding acrylic nails ideas or bridal nail art in red colour or just a simple nail art for wedding. you have landed on the right page. Here, you can explore our quick guide to the best bridal nail designs and bridesmaid nail designs:
The Story of Glitter
If we talk about what's trending in wedding nail designs, then we will definitely not miss this from our list of favorites. Nothing can be more elegant than a hand with perfectly manicured and glitter nails. Brides are just loving the shimmery nails and it is very much in demand in bridal nail art.
Do it the floral way
While talking about wedding nail ideas, we have to mention our second favorite that looks as pretty as real flowers do. This is one of the gorgeous wedding nail art ideas that we can recommend.
Love for henna design
If you just love Mehndi, then this has to be the nail art for wedding bride. For getting such intricate details, you can just ask your nail artist to first put a dark earthy tone nail paint base color and then do a mehndi design with a metallic shade of gold or bronze. With this nail art for wedding, you are sure to make a statement.
Ring On Nails Look
With a gorgeous wedding ring, how about a wedding ring on your nails? This nail art for wedding day could give your nails a fancy studded look. This is one of the most unique bridal nail ideas and alsomuch demanded as a design in red bridal nail art. You can get your nails painted bright red and on the accent nail, go for a studded nail art matching your ring design.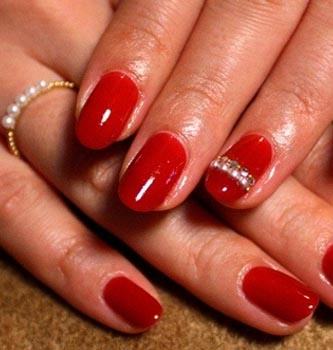 Love for Swarovski
If you do not want everything red then, you can go for some subtle colors as well. For the wedding day nail ideas, we think Swarovski can simply give a classy look. The nail art bridal designs listis incomplete without the Swarovski studded nails. You can go for acrylic nails and then on one finger, add Swarovski stones. This bridal nail art design screams DIVA!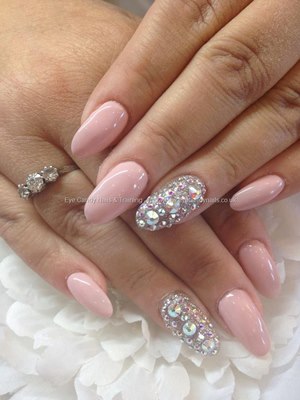 Classic Red/Maroon
If you love a deeper tone, then red nail designs for wedding or nail art inmaroonwill be the best for you. Go for a rich red and give an extra bit of glimmer and on your nail finger, apply glitter nail polish on the ring finger.
Mix of everything
We understand when it is difficult for you to decide the wedding nail art designs, you like 2-3 designs and want a mix of everything.
Elegant Lace Design
If elegance is your forte, then you must go for these wedding nail art ideas. Stones and lace design on your ring finger will give you all the elegance you deserve. You can choose shades of pink.
Full-on Shimmer Nails
If you love everything sparkle and shimmer, then consider this in your nail design ideas for wedding. On your big day, go for rose gold or simply gold.
French Manicure with a Twist
If you just adore french nails but love glitter equally, then get a glitter french manicure done for your special day. The bridal nail art designs french is to go for as this way, you can get the best of both. You can go for gold shimmer or red shimmer or silver glitter and studs.
Magic of Nude and Stones
A nude gel nail paint screams of simplicity and elegance. If you want to opt for a simple wedding nail art, thisyou can go for a mix of nude color and stones.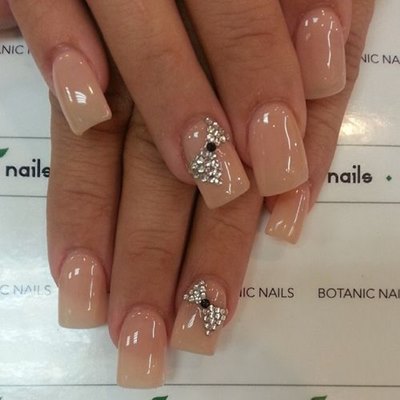 Go Simple
If you do not like too much fancy and want simple bridal nail art, then you should keep it simple on your D-day. The simple metallic wedding nail designs for bride are also trending for the brides who want to keep it a bit natural with glossy nails.
Charm based Nail Art
For the bold bride, choose a charm based bridal nail art design giving a unique look to the nails.
Wedding toe nail designs
Why should your toe nails be left out? There are plenty of options for the toe nails as well.
So what are you waiting for? This wedding season, let the creative manicures and incredible nail art designs for indian wedding make a style statement. Choose the one that reflects your personality and also compliment your entire look to make heads turn on the day when you deserve to stand out. We hope our nail designs for wedding party willcomplete your diva look.
So go ahead and get your favorite nail art done and flaunt the beautiful nails on your wedding day and in the photo album to cherish forever!
RECOMMENDED ARTICLES