Every woman wants to look beautiful. There is a general perception that beauty is only related to physically looking. But the reality is that beauty is a combination of how a person looks physically and behaves mentally and spiritually. The beauty industry is vast, and the beauty market is worth more than $500 billion. Thus, it will be a great idea to invest your money in a diploma in advanced beauty aesthetics.
Diploma In Advanced Beauty Aesthetics
A diploma in advanced beauty aesthetics is an all-rounded course for beauty aspirants to start. The course will teach you everything about hair, beauty, and makeup. It will cover the knowledge and skills required by a beauty expert.
Eligibility
Any candidate who passed 10+2 is eligible to apply to this course.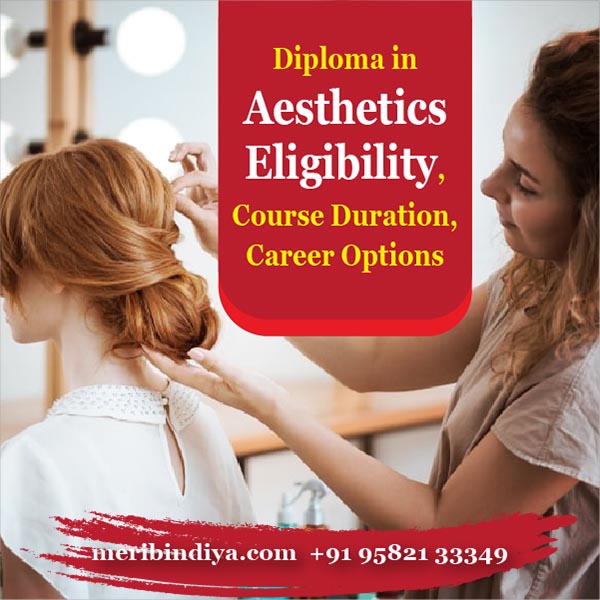 What Will You Learn In Advanced Beauty Aesthetics?
In detailed knowledge about hair anatomy and styling.
The procedure involves the sterilization of various hair styling tools and hygiene.
Different hair coloring techniques, styling techniques, and hair spa techniques.
In-depth knowledge of essential to advanced level of makeup and nail art skills.
Practical application with the theoretical understanding of all beauty treatments and therapies.
Overall development of personality, personal grooming, and image building.
Career After Completing The Advanced Beauty Aesthetics Diploma
After completing a diploma in advanced beauty aesthetics, you can choose the following career options.
Skin Consultant at derma clinic
Beauty consultant at beauty parlors
Hair therapist
Beauty therapist
Beauty salon owner
Hairdresser and hairstylist
Makeup artist
Freelance beauty consultant
Meribindiya International Academy
Meribindya international academy is one of the best beauty academy schools in Noida, New Delhi. With the vision of educating and creating a supply chain of beauty professionals, they offer a variety of courses under one roof.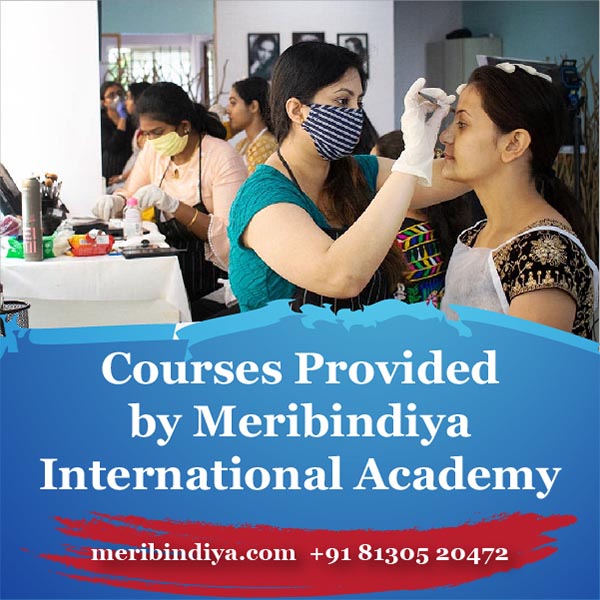 All courses offered by Meribindiya international academy are carefully crafted and designed and are best suited to the latest trends and knowledge in the beauty industry. All their courses are recognized by NSDC and are available offline and online.
The trainers at the academy are highly professional and are experts with years of experience. They provide industry-based knowledge with much emphasis on practical approaches. With the cutting-edge quality of content in every course, their courses are relatively cost-effective. Along with a diploma in advanced beauty aesthetics, Meribindiya international academy offers many other techniques, and they are listed below;
Diploma In Beauty Therapy
Diploma In Beautician
Diploma In Skin Aesthetics
Diploma In Beauty Parlor
Meribindiya Academy Contact Details:
Call: 9582133349
Visit: Shop No – 1, 2nd and 3rd Floor, Sunehri Market, near Sector 18, Atta, Sector 27, Noida, Uttar Pradesh 201301.
How Will Diploma In Advanced Beauty Aesthetics Help You?
Beauty is an essential asset for any girl. Everyone wants to look beautiful and be stylish. But the sad part is that you cannot be beautiful naturally. You have to work hard to make yourself attractive. Beauty is not just about your face. It is about your body, clothes, and accessories as well. To attract everyone's attention, you need to be intelligent and sophisticated. That is why you need to learn beauty techniques and beauty diploma courses.
You can learn various beauty techniques through these various other courses, such as cosmetology diploma courses and diploma beauty courses. Many beauty institutes and diplomas in cosmetology colleges provide you with beauty courses. You can choose according to your preferences.
Diploma in advanced beauty aesthetics embedded you with the required knowledge and skills to survive and establish your place in the beauty industry. This course is an all-rounder and gives you comprehensive learning about beauty, makeup, and hair.
Furthermore, these beauty parlor diploma courses are NSDC approved and are recognized globally. After holding these certificates, you will get multiple job opportunities nationally and internationally. You can even set up your beauty salon or work with some famous experts from the industry.
These beauty diploma courses will empower you with a stable and blooming career in the beauty and makeup industry. So, if you have any doubt about pursuing these courses, read the above information once again.
Conclusion
The beauty industry is an ever-growing and flourishing sector. The need to train aestheticians has grown with the added demand for aestheticians. With the beauty industry involved in everything from the fashion industry to the entertainment industry, the need for aestheticians is always there. A diploma in advanced beauty aesthetics is essential to becoming a successful and certified aesthetician.