Apart from your clothes, one thing which sets you completely apart from everyone else on your engagement is your makeup. Your engagements are your first official wedding-related ceremony, and everyone wants to have a good start with it. This is why your engagement makeup has to be perfect, and the artist needs to put in a lot of effort into it. Moreover, all your wedding shenanigans makeup don't have to be the same as you don't have to look the same in your wedding pictures.
But how are you going to crack that stunning look? Which parlour or Makeup Artist is going to help you in achieving that dreamy makeup look! Don't worry, we at Meribindiya are there to help you. But before that, lest take a look at specific details that you need to keep in mind.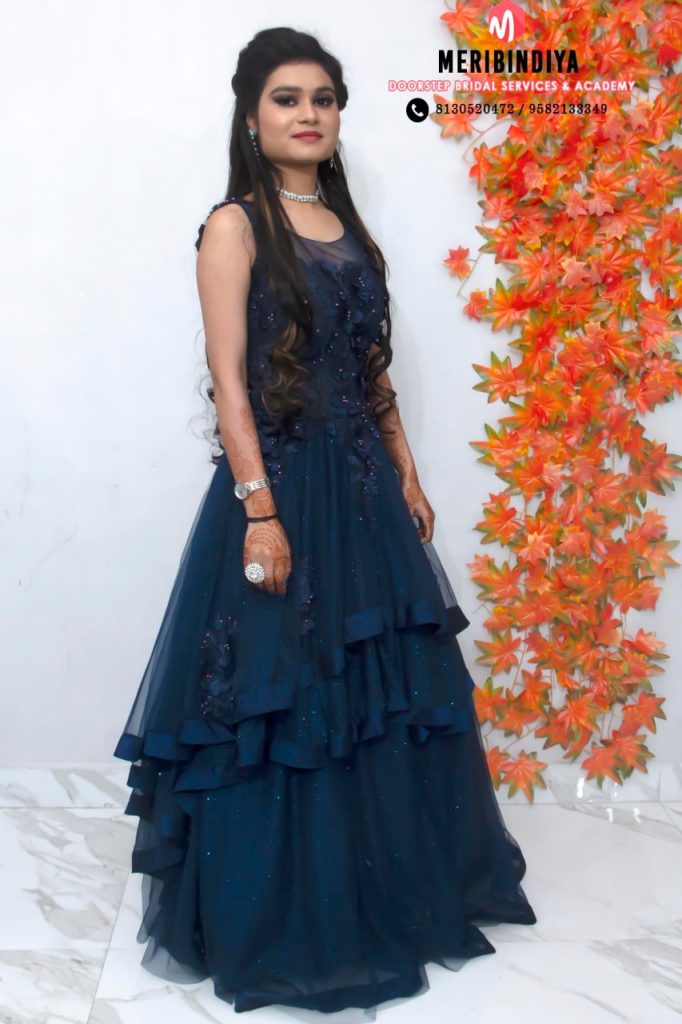 But how do you crack that stunning engagement makeup? If you want to look like a dream, check out our take on engagement makeup and find out all details about how to get it right.
How is engagement makeup look different from the bridal and party makeup look?
A party makeup usually is about primer, foundation, contouring, etc.; it doesn't have to be anything special and wouldn't require a lot of tools and products.
The regular party makeup is also considered engagement party makeup and is done on the guests.
On the other hand, bridal makeup involves using various techniques, like airbrush HD mineral and whatnot, just so that the makeup is perfect. All these techniques require a humongous amount of products and tools. The bridal makeup is heavier than the party and engagement makeup as it has to have a long-lasting effect, and the bride has to sit through. But the engagement makeup is something that falls In between the bridal and engagement makeup. It shouldn't be too heavy or too light. The engagement makeup look can either be a simple engagement makeup look that is not too showy and glammy or something dark that sits well with the everyday look. Everything depends on many factors, and we are going to discuss these factors and how Meribindiya is known for keeping all these factors in mind.
Things you need to keep in mind
keep the overall look and surrounding in your mind
By ambiance, it means that the place where you will walk in the stage, the place where you are going to exchange the rings. The attire of your beloved everything has to be kept in mind. You and your beloved will make an official statement that will stay forever and cherished by everyone. So you need to decide and coordinate with everything.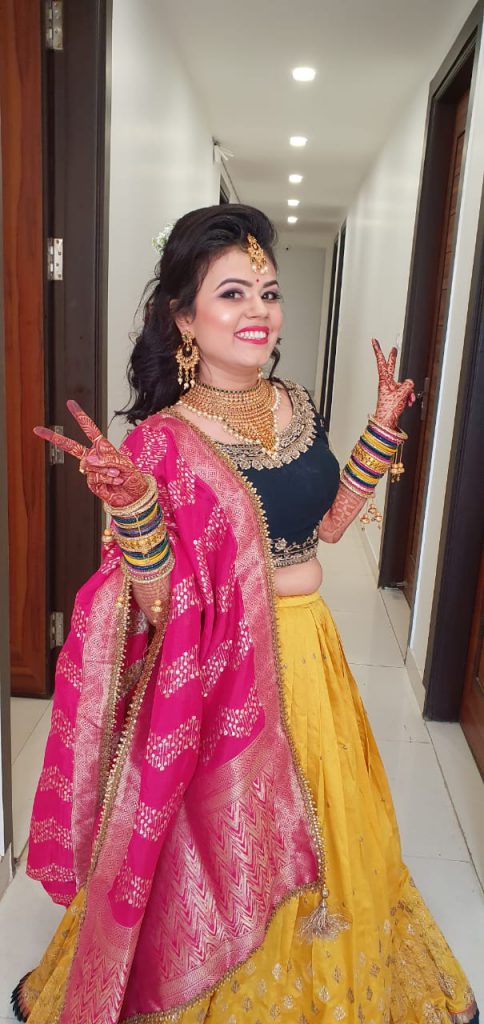 If you are planning to have a grand ceremony, many people go with black color, so for that, your engagement eye makeup goes well with ambiance. You can wear dark lipsticks as they will perfectly highlight your face and make you stand out. But if everything around you is pastel-y, you will have to use dewy makeup as they will do wonders for your look.
This is why the surroundings, articles of clothing, and everything is essential for your engagement hair and makeup.
All the above statements are explained below so that you can have a better understanding
The themes of the engagement
If your engagement party is going to have a theme, your dress will have to go accordingly. Now keep in mind your attire is going to decide the type of makeup you need to get. If your theme and attire are something traditional, your makeup will be traditional. Your hairstyle will work according to your engagement dress. If you plan on getting an elaborate hairdo, your makeup can be subtle; if you plan to go bold with your makeup, your hairstyle has to be subtle. You will have to make sure that your hair and dress go hand in hand, and nothing is standing out.
The timings of the engagement party
There are two types of makeup, day and night. Thus, it would be best if you chose the outfit and makeup according to the function's time and the place where it is going to take place. If your engagement party is in the morning, your engagement party makeup and dress have to be all about bright colors. If you are going to have a night function, your engagement party dress and the makeup has to be dark and sit well with the surroundings.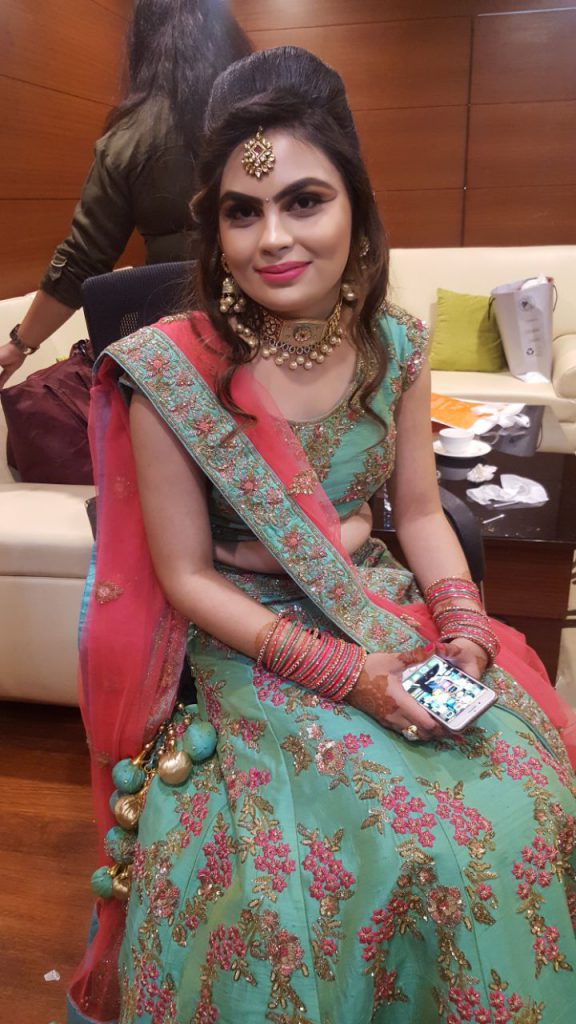 Keep in mind that your night makeup doesn't have to include sunscreen, as this will make you like a ghost in pictures.
Your outfit! everything is all about your outfit
Trust us when we say this your makeup for engagement function solely depends on your outfit. Your first step should be to decide the outfit, which goes well with the ambiance, timing, venue, and the theme of your engagement. You should always try and test the attire so that you can use what goes well. Once you have finalized the outfit, you can choose the makeup, the color palette, and the things and the type of makeup you want.
Now let us discuss some elements involved in your engagement makeup.
First and foremost, your eye.
Your eyes are the window to your soul, and an elaborate engagement eye makeup will do the best. Your eye makeup is going to complement your attire and make your eyes look bold and beautiful. The type of eye makeup depends upon the time of your function. Suppose your engagement function is in the morning, then an elaborate eye makeup will look the best. If your engagement function is the night, then smokey eyes will look good. The color of the eyeshadow will go well with the color of your outfit. Lastly, if your kajal is bold, then the eyeshadow should be vibrant enough o stand out.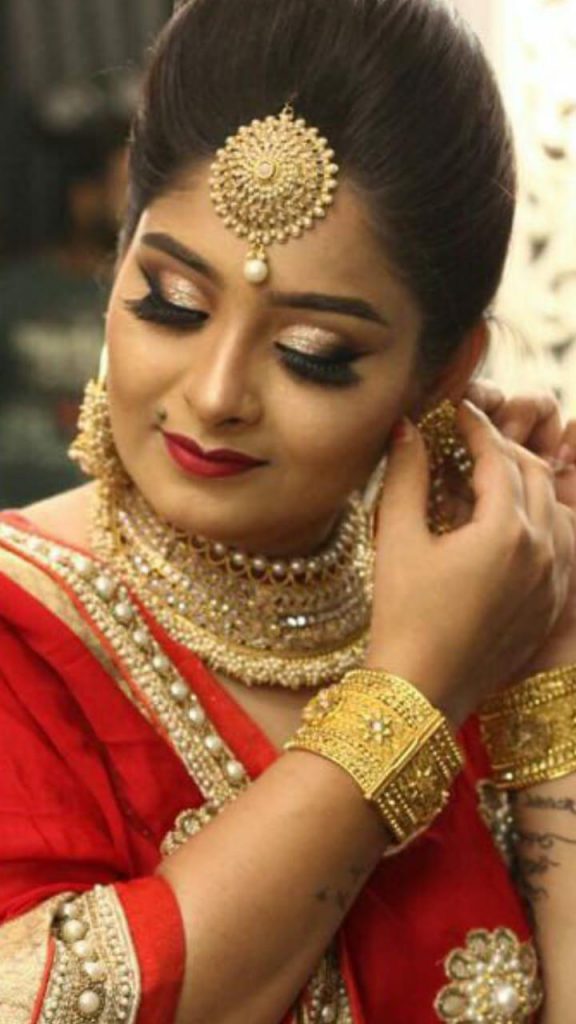 Your lips
Your look will be completed with the perfect colour of lipstick. Colours like reds, pinks, oranges, and even some of the nudes go well with the engagement, and the colours have to depend upon your outfit and not whether the function is in the morning or evening. Just make sure that you don't choose an offbeat colour and the colour you aren't confident with. Choose a colour that is contrasting or matching with your outfit and your skin tone.
Your face, you shouldn't forget it.
Your face will have many products on it like foundation primer, contour highlight blush, and whatnot. This is why you should take note of the products that your makeup artist will do on your face, and the products should match your skin tone. Otherwise, everything will look mismatched, your face could either be too dark or too light, and this will make you look like a ghost.
Your hairdo's
You can try various hairstyles, especially on your engagement, as you cant experiment much on your wedding day. Choose the hairstyle that suits well with your face cut and the neckline of your blouse. The hairstyle should also match the time if the day and your comfort. You can also keep the cultural elements in your mind and experiment with your hair.
Now let us take a look at the different type of makeup.
Airbrush makeup.
This is a very interesting and a very popular technique in the market. In this, the liquid products are put in an air gun and then applied using the spray method. The airbrush makeup is known for giving a natural and dewy look. The makeup products are water-resistant and won't melt off. If your engagement party is in the morning, then you can opt for airbrush makeup as your engagement makeup. It is the best option for your summer and destination wedding. It is the safest way to go.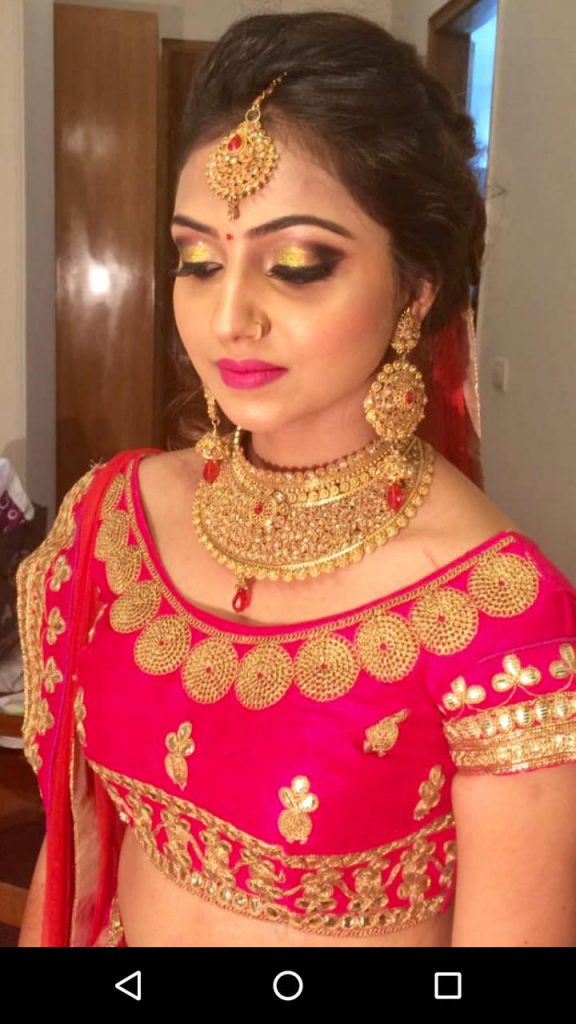 HD Makeup
These products are all powder-based and are applied with the help of blenders and brushes. This makeup doesn't last long as much as airbrush does. So if your engagement is just for a short period, opt for this; otherwise, don't.
Mineral makeup
This is one of the most natural makeup out there. It doesn't contain andy sort of preservatives or chemicals like other products doo. If you have sensitive skin and are worried about getting rashes and breakouts, which can be caused by heavy makeup, you should opt for mineral makeup.
Mineral makeup is made while keeping all the benefits in mind. It is perfect for everyone out there and will help your skin. Mineral makeup is known for giving a natural and dewy look.
Why you should choose us
When it comes to the bridal look and engagement look, your makeup is an essential part. Be it your pre-wedding shoot or any other ceremonies, the bride has to look stunning and beautiful, which is why the makeup should be applied to enhance the natural beauty and make the heads turn when she walks in the room. Engagement makeup is one thing that all brides look forward too. so make sure that you make it an unforgetful experience
We hope you have a clear idea of how your makeup should be, but don't worry. We at meribindiya will help you in acing your engagement look.
We at meribindiya are aware of how important the moment when two people commit to spending their lives with each other. Our engagement makeup artists make sure that your makeup is the last thing that should bother you.
So, what are you waiting for? Call up Meribindiya and hire professionals to get your engagement look done. We are the best makeup artists in Delhi and provide our services at the venue. Here are some details on the engagement makeup.
Engagement Airbrush Makeup
Makeup details
Airbrush Makeup Eyelashes Dress draping(saree/chunni) Bun / Fancy Hairdos Nail Art Hair Accessories – (on prior notice)
We charge for:-
Hair Extension-on MRP Advance Nail Art – 350/- Advance Hairdo – 500/- The cost is in between ₹7,500.00 to ₹9,000.00
For Makeup Booking, Call – 8130520472
RECOMMENDED ARTICLES
5 Reasons to Book a Professional Makeup Artist for Your Bridal Makeup
Pre-wedding Skin & Hair Preparation for Indian Bride
What is the most trending party makeup look in 2021?
Latest Bridal Mehandi Design for 2021