If you feel good by styling others or making them look good. If your passion is makeup and styling, and you want to follow your dream. Then why wait? Be a part of the highest growing industry and become a professional makeup artist. Join Diploma in Makeup & Hairstyling Course, Learn a skill today that will benefit you tomorrow. The demand for professional makeup and hairstyling artist is growing day by day as they are needed on every occasion, whether it is a wedding or a party or in the TV/Film industry.
It's a career that will not only allow you to follow your passion but will also give you a chance to earn a good living. In the past few years, the makeup artist career has emerged as one of the most favourite ones for people. It not only gives you the power to transform someone but also gives you a very promising career. A makeup and hairstyling artist is needed for every occasion. The TV or Film industry can not run without makeup artists. Being a makeup artist is amazing if you want to become one, I assure
you that you will never regret your decision.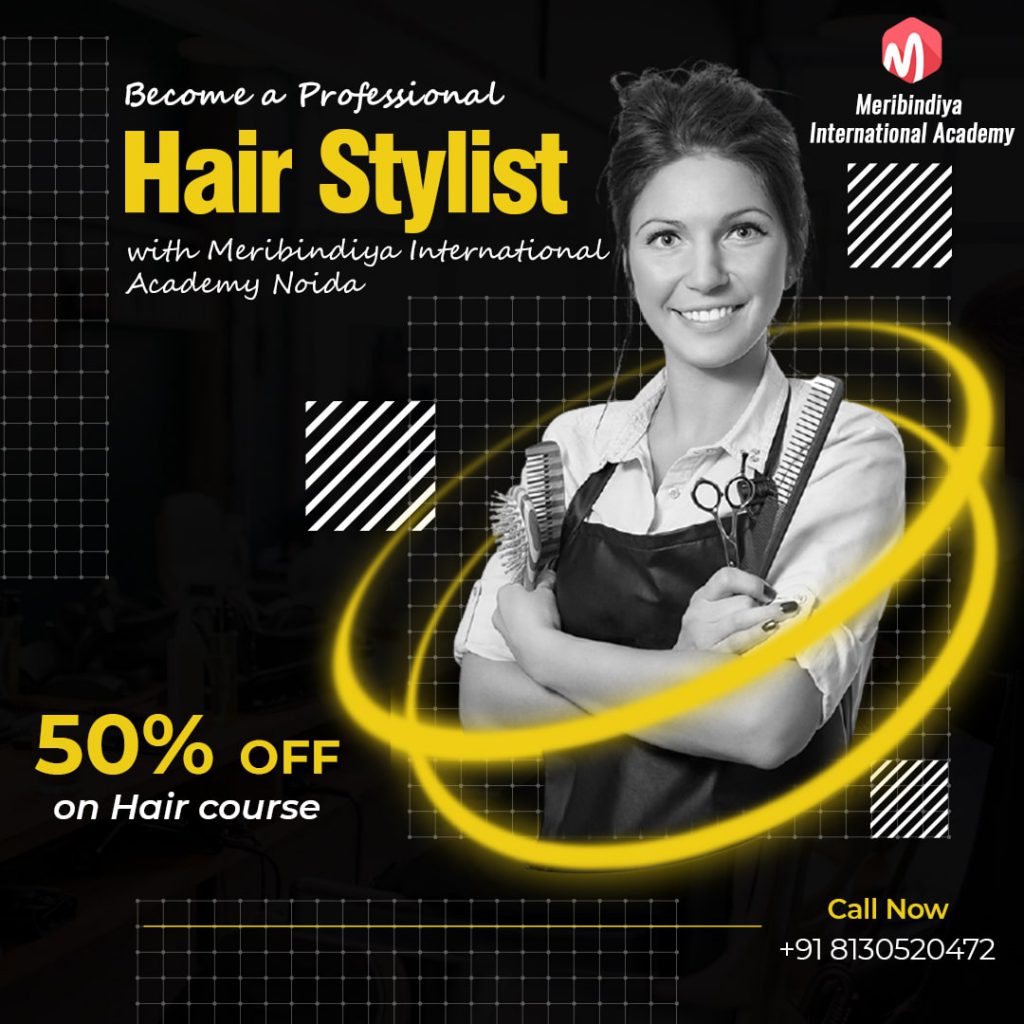 So if you have made up your mind and want to pursue makeup artist as your career option, then you have come to the right place. MeriBindiya Academy is the best makeup academy in Noida. We offer various professional makeup and hairstyling courses and diploma. Our Certificate and Diploma courses include courses in Beauty, Makeup, Hair and Nails. Starting your career in the makeup industry with us will give a kick start to your career.
MeriBindiya Academy offers you an advanced makeup classes where you can learn the art of makeup and hairstyling effectively. We provide you with a learning environment so that you get the best knowledge. We have a team of trained and experienced celebrity makeup artists who will teach you the art of makeup and hairstyling. We provide courses which consist of small batches so that we can pay attention to every individual. Friendly and supportive staff in our makeup training centre helps you in every possible way to make your learning better.
All of our courses are NSDC approved and certified by ISO. We also assure you 100% job placements after completion of your course. We provide you courses at very reasonable rates.
Diploma in Makeup and Hair Styling
Diploma in Makeup and Hair Styling course is designed for those who want to build their career as Professional Makeup Artist in Delhi. It will help you to start your career from basics. This course will give you knowledge about applications and techniques of Self Makeup, Bridal Makeup and Advanced Hair Styling.
We will provide you with advanced artistry makeup classes. You will learn the art of makeup and hairstyling from our professional and experienced makeup artists. This Diploma course is NSDC approved and certified by ISO. You will get all the insights of self makeup, advanced makeup and Hairstyling in a detailed way.
Course Details:
In this course, you will get full knowledge of the application and techniques of Basic to Advance makeup which are Self Makeup, Basic Makeup, Bridal and Advanced Makeup, and Basic to Advanced Hairstyling. MeriBindiya is one of the upcoming makeup academies who will offer you, artistry classes. Professional and experienced celebrity makeup artists will conduct the classes. The classes are held five days a week ( Monday – Friday) for 3 hours, and the duration of the course is four months. We also offer you a product kit that contains all the essential items for makeup and hairstyling. We provide you with the best and branded makeup products. If you enrol in this course with us, we also offer you a Lifetime Membership Card.
The Course Covers the following topics:
Foundation Makeup Course
Theory classes on Face Structure and Skin Theory,
Theory classes – Product Knowledge
Theory classes – Personal Hygiene
Theory classes – Brush Knowledge
Theory classes on Skin tone knowledge and Skin type
Theory classes on Makeup Knowledge about Contouring, Highlighting, Blusherand Eye Shadow Application
Day Makeup
Different Types Of Eye Makeup
Nude Makeup / Corporate Makeup
Party Makeup
Night Party Makeup
Festival Makeup
Engagement Makeup
Advance Makeup Course
Theory classes – Advance correction and derma theory
Theory classes – HD makeup
Demo of HD Makeup
Theory classes – Bridal
Demo of Bridal
Theory classes – Airbrush
Demo – Airbrush
Reception Makeup
Hair Style Course
Product Knowledge
Understanding Hair Textures
Hair Consultation
Hair Drying/Sectioning/Velcro Setting
In curls / Out Curls
Straightening
Curls with Ironing and Tongs
Bridal Buns
Hot Rollers Setting
Applying for Hair Extensions
Vintage Buns
Different Types of Braiding
Portfolio shoot
Jobs and Salary:
After the completion of your diploma, either you can start your career by working in a salon or you also have a choice of working as a freelancer. The average salary offered in a salon is 2.8 – 4 LPA. This is a good income to earn your living and to follow your passion. If you work as a freelancer, then you can still earn up to 40000 to 75000 monthly. You can also get an opportunity to join our team and start your career with the leading and experienced makeup artists of our team.
Why Join Us:
Before joining us, you should know the perks of joining us. We can give you several reasons why you should join us.
We have a wonderful team of Professional Trainers.
We offer an internship at our academy, which is also a part of the course.
We offer small size classes so that everyone gets individual attention.
All the staff is very supportive, and we provide a good learning environment.
We also guarantee you 100% Job Placements after completion of your Professional makeup course.
You can also get an opportunity to be a part of the MeriBindiya Bridal Team and assist our makeup artists in Bridal makeup.
MeriBindiya Academy in Noida's Top Academy and you can be a part of it.
Our academy is ISO certified.
If you join our courses, you will also get a Lifetime Membership Card of MeriBindiya Makeup academy.
All of our courses are NSDC approved.
You also get access to our E-Portfolio.
We also offer you an immediate loan facility.
MeriBindiya International Academy Noida
2nd Floor, Veer Singh Palace, Near Sector 18 Metro Station,
Behind Vinayak Hospital, Sector 27, Noida
Any Course Query, Call — 8130520472 / 9582133349
RECOMMENDED ARTICLES